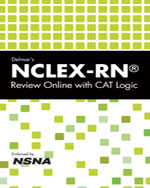 Delmar's NCLEX-RN® Review Online with CAT Logic is an online NCLEX-RN® test preparation and review course that provides nearly 5000 NCLEX-style questions that test all core areas covered on the licensure exam. This unique exam preparation tool provides content review, practice subject area tests and full-length mock exams that simulate Computerized Adaptive Testing (CAT logic) used in the actual NCLEX-RN® examination. Track your progress and pinpoint areas for improvement using the detailed performance dashboard. Be confident in your preparation knowing NCLEX-RN® Review with CAT Logic is the only online review that is endorsed by the NSNA.
Simulates the real-world experience of taking the NCLEX-RN® by taking a full mock exam with Computer Adaptive Testing (CAT logic) used in the actual examination.
Create your own customized practice tests. You choose the subject areas to test on and set the length of time your test will take and whether or not you see immediate feedback after each question.
Includes subject area content reviews with full-color illustrations
Review your practice tests and mock exams after you've completed them. Rationales for each question are provided along with direct links back to the subject area content review for easy remediation.
Additional tools include a calculator, a timer that can be turned on or off to practice time management and an option to print.
A visual dashboard tracks your progress and helps you pinpoint areas of strength and where you need more practice.
Here are some testimonials of what these nursing students said about NCLEX-RN® Review Online with CAT Logic:
"I love this product. Often times NCLEX® review products are not compatible with apple products, however, with this I am able to receive NCLEX® review on the go with my laptop and my iPad. I love the content that is available through Delmar's NCELX-RN® Review Online with CAT Logic. The questions are realistic and approach each topic in an easy and understandable way. The mock exams have given me the confidence I need to pass my boards! Thanks Delmar!"
- Amy Olenick
Student, Farmingdale State College

"I found this product extremely helpful!! The ability to experience CAT LOGIC style questions really prepared me for class, and tests. It really helped guild my confidence in being ready for the NCLEX®! This product would be very helpful to any student who is unaware of NCLEX® style questions or be ready for the questions being done on the computer like the actual test!"
- Matthew Hickling
Student, Russell Sage College
Post-Secondary School customers can find valuable information on pricing, previous editions and alternate formats by visiting
www.cengage.com/highered
and searching by ISBN #, author, title, or keyword for materials in your areas of interest. School customers can find additional information on our products by visiting
www.cengage.com/school
.